In 2018, Artificial Intelligence (AI) was mentioned almost every field. For the next year, there will be more incredible new discoveries and also the exaggeration of the commentators. There are five important things related to AI that are expected to happen in 2019: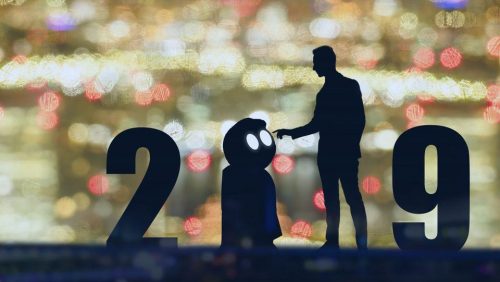 1. AI will make extra contributions to international political issues
2018 has seen an increase in trade protectionism in the global trading system, especially in the relationship between top countries in the race for Artificial Intelligence, the US and China. While the US was imposing more rule of goods and services used to build AI, China was trying to explore on its own.
As a result, authoritarian regimes could assume the AI technology more and more to control freedoms. Moreover, the partnership between the AI organizations across the world could be compromised making the difficulties in setting common standards for AI.
2. Increasing the transparency of AI
Everyone should know what AI is and how it works to believe in AI. 2019 may see more measures created to increase the transparency of AI.
According to reports, many companies sometimes are repressing the setup of AI due to the fear of liabilities in the future if current technology were to be judged to be unfair or unethical in the future.
3. AI and robotization bearing further into each business
In financial services, immense ongoing logs of thousands of exchanges for each second are routinely parsed by machine learning calculations.
In 2019, what we'll see developing certainty is that this keen, prescient innovation, supported by the learnings it has grabbed in its underlying organizations, can be taken off discount over the majority of a business' activities.
AI will stretch out into help capacities, for example, HR or improving supply chains, where choices around coordination, just as procuring and terminating, will turn out to be progressively educated via computerization.
We're additionally to see an expansion in organizations utilizing their information to create new income streams. In 2019 more organizations will receive this remarkably to comprehend the estimation of the data they possess.
4. A larger number of occupations will be made by AI than be lost to it.
As we referenced, in the long term the ascent of the machines will uncertainly prompt human joblessness and social struggle or something in the middle.
While 1.8 million occupations will be lost to computerization – 2.3 million will be made in assembling – one factor that can prompt this uniqueness is the accentuation on offering AI in the capacity to "strengthen" while conveying it in non-manual employment. This implies those ventures profit by the development in human occupations on the specialized side
For the monetary administrations, the viewpoint is maybe marginally grimmer. With back-office works progressively being managed via machines, we could be well on our approach to seeing that materialize by the end of next year.
5. AI collaborators will become really helpful
In 2019, more of the human than any time will utilize an AI associate to mastermind our timetables, plan our adventures, or request a pizza. These services will turn out to be progressively valuable as they figure out how to envision our practices better and comprehend our habits.
Information assembled from clients enables application designers to see precisely what the clients require. Therefore, capacities which we would like to utilize AI for –, for example, requesting taxicabs and sustenance deliveries– are ending up progressively streamlined and available.
Over this, AI associates are intended to end up progressively productive at understanding their human clients.
BGF is discussing these issues as well, including growing threats to democratic governance. We believe that AI technology and analytical thinking can help us face the challenges of nationalist populism and dictatorship.