On this week, AIWS talkshow for Leadership and Innovation will be co-organized by Boston Global Forum (BGF) and Vietnam Televisions VTV3 Chanel.
The moderators of the program will be Journalist Ta Bich Loan (the Director of Vietnam Televisions VTV3 Channel and one of Vietnam's top 50 most influential women 2017), together with Barry Nolan (the former presenter on Comcast Cable's CN8 channel in the US, and winner of multiple Emmy Awards). In this event, participants will discuss on AI in general and The Artificial Intelligence World Society (AIWS).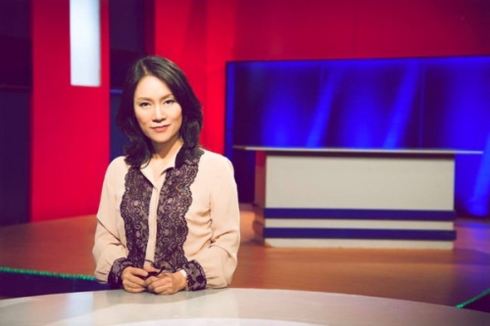 Journalist Ta Bich Loan, Director of Vietnam Televisions VTV3 Channel
A year after the AIWS was born, it has spread its influence to the world's leading science and technology centers as well as political and cultural centers. Rt. Hon. Liam Byrne MP, Member of Parliament for Birmingham, Hodge Hill, Shadow Digital Minister, Chair of the All-Party Parliamentary Group on Inclusive Growth, delivered the first AI World Society Distinguished Lecture at Global Cybersecurity Day 2018. On April 25, 2018, OECD Secretary, General Angel Gurria, receive the first world leader in AIWS Award at BGF-G7 Summit Conference at Harvard University Faculty Club. AI-Government, a component of the AIWS became a topic in a section at AI World Conference and Expo which was held in Boston in December 2018; besides that Michael Dukakis Institute for Leadership and Innovation (MDI) will be the core partner who organizes AI-Government conference in DC in June 2019. Out of Boston, many AIWS groups are established in various countries such as Japan, England, Germany, Finland, Belgium, Austria, New Zealand, Australia, Russia…
This event will have the presence of not only two famous anchors, but also many leading professors and experts in AI technology: Prof. Jason Furman (economist and professor at Harvard University's Kennedy School of Government and a Senior Fellow at the Peterson Institute for International Economics), Mr. Nicco Mele (The Director of the Shorenstein Center on Media, Politics and Public Policy and an academic research center in the Harvard Kennedy School at Harvard University), Professor Nazli Choucri (Member of Boston Global Forum's Board of Thinkers; Co-founder, member of GC Development Council; Global Citizenship Educators at Global Citizenship Education Network), Marc Rotenberg (President and Executive Director of the Electronic Privacy Information Center – EPIC) and many other prominent characters.